early birds! Me and Amelia got up early this morning and went to eat breakfast- omelette!
I got a ponchojacket thing today..it's pretty cool.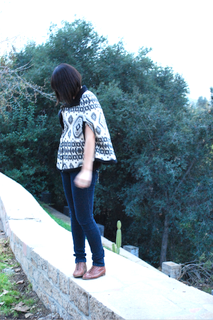 Urban Outfitters Kimchi&Blue poncho cape thing, Hot Topic jeans, boots from Ebay.
I also got a dress..I'll have a picture of it later.
Amelia and I also painted our jeans!
Thanks to the tutorial by fashionflux,
they turned out amazing- a little stiff, but still amazing.
Theres this H&M jacket that i need.
its motorcycle style..and i will get it soon.
hah.
I MUST HAVE IT.
siren-
Classical Mythology

.
one of several sea nymphs, part woman and part bird, who lure mariners to destruction by their seductive singing.
i love that.